POOL DECK COATING
Non-skid textures and weather-resistant capabilities protect your pool deck for decades.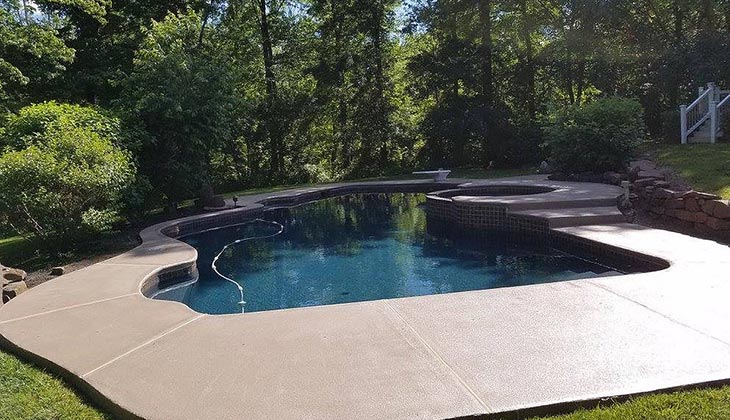 If you have a pool on your property, you understand the importance of having a safe and functional deck around it to for your peace of mind and to enhance your enjoyment of your outdoor living space. In addition to acting as an attractive accent that enhances your yard's appeal, a pool deck must also be functional and capable of withstanding extreme temperatures, frequent foot traffic and pool chemicals.
The pool deck coating systems from Battleborn Concrete Coatings can capably handle all that and more, and our experienced installers can have your new deck coating installed in just one day to minimize your poolside downtime!
Benefits of a Concrete Deck Coating for Residential Pools
At Battleborn Concrete Coatings, our mission is to provide our customers with exceptional products at cost-effective prices, and our concrete deck coating systems are no exception. Built for extreme durability, our outdoor flooring systems improve the safety and enjoyment of your year-round outdoor fun without the hassle of constant maintenance and repairs. With a concrete pool deck resurfacing from Battleborn Concrete Coatings, you'll enjoy a product that is:
Safe: Unique, non-slip textures provide a stylish look that also helps to prevent slips and falls on your decking.
Durable: Chemical-, abrasion-, and UV-resistant, our products hold up to constant wear and tear without being affected by the elements.
Guaranteed: We stand behind the quality of all of our flooring systems by offering a 15-year product warranty for your peace of mind.
Stylish: From chip and metallic coatings to customizable colors, we'll help you choose the perfect product for maximum style impact and effectiveness.
Discover the Difference of our Pool Deck Coatings with a Free Consultation
Whether you need deck coating to make a small deck area safer, or are seeking a dramatic look for your more expansive outdoor pool space, Battleborn Concrete Coatings offers a range of innovative solutions to help you get the most out of your property. As the leader in garage floor coating systems and residential concrete coatings, we've been a top choice for exceptional service since 2010, and we'd love to help you design your ideal home pool deck! Simply give us a call today to get started, or submit our online form to request a free, no-obligation estimate now.