METALLIC SYSTEM
Add a pop of vibrant color with the 3D marbleized look of our sturdy, yet stylish metallic systems.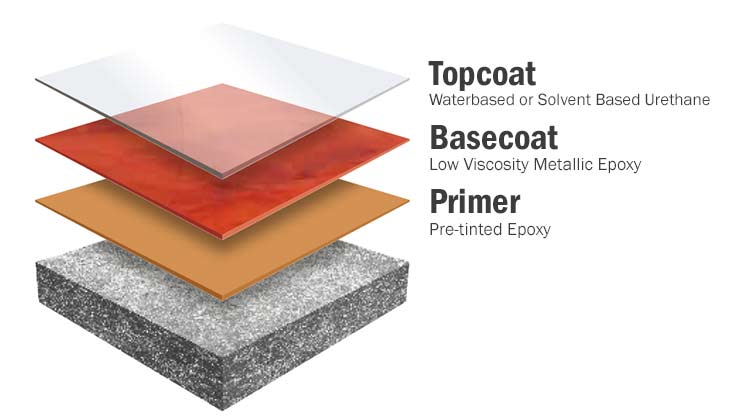 Looking to make a big impact for a small price? Then nothing beats the eye-catching appeal and high-end shine of our metallic system flooring! In one quick and affordable installation by our certified flooring experts, you can enjoy a pop of bold color in any residential or commercial space. The 3D marbleized look of our metallic system makes it a five-star complement to any room, including:
Garage Floors
Man Caves
Kitchen Floors
Restaurant Dining Rooms
Showrooms
Convention Centers
Entertainment Venues
Boutiques
Office Lobbies
Warehouses
Optimal Slip Resistance and High-End Gloss
We pride ourselves on providing the highest-quality flooring systems available on the market today. Unlike the cheap, single-coat floor finishes that many contractors provide, we utilize multilayer systems with top-notch resistance to chemicals, UV rays, abrasions, and impacts.
We know that our flooring systems are superior because we designed their special formulas—based on years of industry experience! With our metallic epoxy floor coating system, you get:
Lasting strength from 100% solids and three layers of epoxy and urethane
Beautiful color movement from natural pigments of your choice
Enhanced lighting via reflective, high-gloss top coats
Subtle beauty from optional matte-finish top coats
Optimal slip resistance with an elective anti-slip finish
Quick installations by skilled flooring crews
Effortless maintenance and easy cleaning
Plus, like all of our innovative floor coating systems, your new metallic flooring is backed by a range of protective warranties, as well as a 15-year product warranty on residential projects. You'll never wonder about the long-term performance of your new metallic system floor!
Request More Information and a Free Quote for Your Metallic Floors
From the dramatic impact of metallic floors to the subtle beauty of chip system flooring, we have a wide range of styles to suit any residential or commercial space.
Whatever your ultimate goals may be, we'd be happy to discuss them and help you create custom flooring that exceeds your expectations. Call us today to speak with a friendly flooring pro, or fill out our online form now to request a free estimate for your metallic system flooring!