SOLID COLOR POLYUREA SYSTEM
Unlike traditional materials, polyurea can withstand extreme temperatures, chemicals, and abrasions.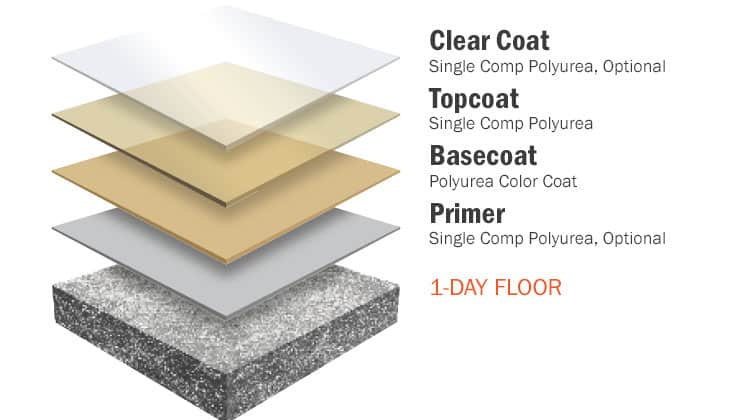 From unexpected emergencies to the final breakdown of a long-aging concrete floor, you don't always get the luxury of planning when flooring upgrades are necessary. If it's the dead of winter and your garage or workshop floor has reached the point of no return, don't stress—just get in touch with Battleborn Concrete Coatings! Our solid color polyurea system is specially formulated for cold weather installations, allowing us to give you the high-quality flooring upgrade you need, no matter the season or circumstances.
With the strength to resist chemical damage and the flexibility to withstand repeated freeze-thaw cycles, our solid color polyurea system is the perfect choice for interior and exterior spaces, including:
Garage Floors
Warehouse Settings
Service Areas
Production Areas
Showrooms
Veterinary Clinics
Machine Rooms
Long-Term Benefits of Our Polyurea Concrete Coating System
By choosing Battleborn Concrete Coatings' polyurea concrete coating system, you don't just benefit from the convenience of year-round installations; you also get the following benefits for a lifetime of flooring satisfaction:
Enhanced Durability: Polyurea is much stronger than standard flooring materials, offering flexibility in variable temperatures and proven resistance to impacts, chemicals, and abrasions.
Custom Style: Our polyurea concrete coating system is available in a wide spectrum of textures and colors, with custom color matching available. You can also choose between a high gloss or matte top coat.
Quick Installations: Our floor coating systems are always installed by Battleborn Concrete Coatings-certified professionals who are trained to finish your new polyurea floor in as little as a single day!
Product Guarantees: We're confident in the dependability of our floors, so we back them with a 15-year product warranty and a lifetime guarantee.
Request Your Complimentary Polyurea Flooring Consultation and Estimate Now
Are you ready to choose the perfect color and texture for your solid-color polyurea system? Would you like to learn more about our other high-quality products, from our lightly textured chip system to our budget-friendly epoxy? Then give Battleborn Concrete Coatings a call today, or fill out our short online form now! We'll be in touch to discuss your upcoming floor installation and set up your free, on-site estimate.